CHRISTMAS COOKIES WITH MESTEMACHER WESTPHALIAN PUMPERNICKEL
Ingredients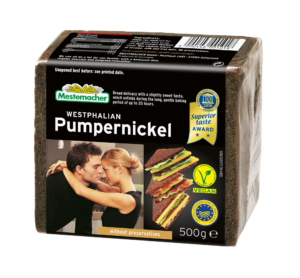 For the dough:
350 g wheat flour
2 eggs
1 level tsp. baking powder
150 g sugar
2 packs vanilla sugar
75 g soft butter or margarine
50 g peanut butter
4 tsp. cocoa
maple syrup for spreading
Preparation
Mix flour and baking powder together in a mixing bowl. Add the butter, sugar and eggs and beat with a mixer (dough hook), first briefly at lowest, then at the highest speed, until you have a dough. Knead pumpernickel and cocoa into one half of the dough. Mix the peanut butter with the other half of the dough.
Roll out light and dark dough separately and thinly on a gently-floured work surface. Cut out different motifs from both doughs, e.g. triangles and stars in various sizes. Then cut out smaller motifs from the triangles or stars and reassemble them again on the baking tray.
Bake the biscuits at 180 degrees top/bottom heat for about 12 minutes. Place the biscuits aside to cool and spread with maple syrup.